Hail damage is responsible for hundreds of millions of dollars in claim payouts every year. Hail damage can diminish the life expectancy of your roof and may result in water leaking into the inside of your home. Several factors affect if and how hail will damage a roof.
-Size of the hail. Roofs are designed to withstand smaller hail, but all roof products will be affected once hail reaches a large enough size.
-Density or hardness of the hail. Denser hail will cause more damage than softer hail.
-Roofing material. Some roofing materials are more impact resistant than others. Below is a guide on how how to recognize hail damage to different materials.
*Laminate or composition shingles: One of the most common types of roofing. Hail damage will be in the form of dislodged granules in a circular pattern consistent with the size of the hail. The damage will be dark in color and may be soft when pushed on where the hail has impacted the shingle. Newer roofs will hold up better than older roofs and laminate or dimensional shingles will hold up better than 20 year or 25 year 3 tab shingles. If left untreated, the hail impacts will worsen over time and may result in water leaks.
What's not hail damage to laminate or composition roofs? Granule loss is when the granules on the shingles come loose from the shingle substrate as the shingle ages over time. Blister pops are small hollowed out holes often confused with hail damage. Blister pops are usually prevalent on older roofs due to defects in shingles or inadequate roof ventilation.
*Metal roofing: Look for dents or dimples on the surface of the metal.
*Wood shakes: Wood shakes have fallen out of popularity and most homeowners choose not to replace their roof with wood shakes. Insurance companies usually require extensive damage in order to replace a wood shake roof. Look for fresh splits in the wood with a corresponding hail hit. Many wood shakes have natural splits from wear and tear over time and this damage is not consistent with hail.
PVC Roofing: Look for small circular swirling patterns.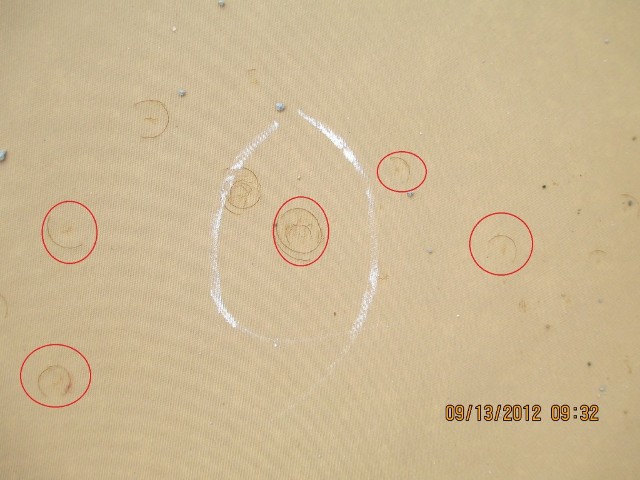 Hail damage to pvc roofing
*Tile: Tile roofing will show damage in the form of broken tiles. Larger hail is usually required to damage a tile roof. Damage to tile roof in the form of spalling is often confused with hail damage.
*Aluminum shingles: Look for dents or dimples on the surface of the metal where the top coat has bee knocked away.
Hail damage aluminum shingle
*Masonite roofing: Masonite shingles look like wood shakes but have not been manufactured for a number of years. Damage is in the form of cracks or heavy impacts to the Masonite material. Even one damaged Masonite shake may qualify you for a total roof replacement as the product is no longer made.
Foam roofing: Look for punctures in the material corresponding with the size of the hail.